Firm Overview
Our firm has been engaged in the general practice of law for over a century, by choice. We find the general practice to be challenging and fulfilling. We value each and every client, and treat clients with the respect they deserve. Because most clients have varying legal needs, at different times, our experience in the general practice enables us to effectively and efficiently meet those needs as they arise.
We handle legal problems in every area of the general practice, except bankruptcy. Frequently we will complete one legal service for a client only for the client to request our services in another area of the law. We are pleased to be able to provide our clients with a full range of legal services.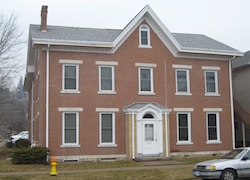 Our office building is located in Fort Madison, Iowa, across the street from the Lee County Courthouse. Our contact information is:
Johnson & Skewes
516 7th Street
Fort Madison, Iowa 52627
Phone: (319) 372-2532
Fax: (319) 372-7923
Thomas T. Skewes: tom.skewes@johnsonandskewes.com
Gregory A. Johnson: greg.johnson@johnsonandskewes.com
---
Practice Areas
Wills and Probates
Estate planning
Draft wills
Probate of wills
Estate administration
Estate avoidance
Real Estate
Residential transactions
Commercial transactions
Examination of abstracts
Real estate contracts
Closings
Foreclosures
Subdivisions
Forfeitures
Landlord — Tenant
Property tax protests
Family Law
Divorce
Custody/Visitation
Modification of decrees
Child support
Adoption
Guardianship/Conservatorship
Opening, voluntary and involuntary
Administration
Personal Injury and Workers' Compensation
Motor vehicle accidents
Wrongful death
Personal injury
Property damage
Workers' compensation
Social security disability
Commercial Law
Limited liability companies
Business corporations
Other
Unemployment
Municipal law
Name changes
Medical malpractice
Personal injury and workers' compensation is typically handled on a contingent fee basis, as there is no charge for the initial consultation.